A woman in ethnic dress.Shiraz. Iran. Photo credit: Mihaela Noroc. businessinsider.com
Home to different groups of people, Iran is a multicultural society with a wide variety of costumes and clothes. Iranian traditional dresses are unique and vary from region to region, each area boasting fabrics with different patterns and colors. Iranian dresses with different jewelry, worn by both men and women from north to south and west to east, represent and reflect the beliefs, culture, and traditions of these ethnic groups.
Now, let us have a closer look into the world of Iranian dresses and traditional costumes of major ethnic groups.
Iranian Kurdish Dresses:
As regards the Kurdish style of clothing, long colorful dresses with a vest and scarf or headband is common for women as well as a beautiful piece of cloth which is used as a waistband. On the other hand, men tend to wear loose trousers, plain shirts on which they wear a coat or a vest with a large belt on the waist. mostly, they use a shawl or a narrow piece of the scarf as their belt.
 Two Kurdish girls with their traditional clothes
Iranian Bakhtiari Dresses
Bakhtiari women generally wear a multi-layered skirt paired with a vest and a very long scarf, all colorful and eye-catching. 
Men usually wear something called 'Chuqa' which is a coat or wrapper accompanied by long trousers and a felt hat. 
 Bakhtiari women with their colorful Sar-Band (head covers) 
Iranian Turkmen Dresses: 
Another group of people with a unique style of clothing are Turkmens. They reside in the northeast of Iran, a region that borders Turkmenistan.
Women are distinguished by wearing a red dress which is long with a round collar and the fabric changes according to the season. They also put on hats and scarves.
Men's clothing components are a long red outfit with trousers and a large woolen hat. The color red is a prominent color in this style.
Sample of Iranian dress: Turkmen clothing
Iranian Dress Code
People in rural areas still dress in the traditional way that is preserved for hundreds of years, whereas in metropolitan areas it is a horse of a different color. It should also be noted that due to religious beliefs, Iranian clothing is modest especially for women. However, the dress code that women should observe solely pertains to the outdoors and public places. In private gatherings, parties, and intimate environments, Iranian women's dress code is essentially similar to that of the western countries.
In urban areas and major cities like Tehran and Isfahan, no one wears traditional dresses. It is mandatory for women to wear Manteau (long coats made of different kinds of fabrics) or, if they prefer, Chador. Iranian Women should also cover their hair, they do so by scarves, shawls, or a Hijab for head called 'Maqnae'. Iranian male dress code, either casual or formal, is completely similar to European and American styles.....to be continued
Photo credit: Komoda.com

 

Photo credit:

 hacoupian.com
The painting illustrates the traditional Persian gathering.Photo credit:ISNA Imagine this: It is a cold winter night; you are sitting with your friends or family around a table full of delicious s...
Read more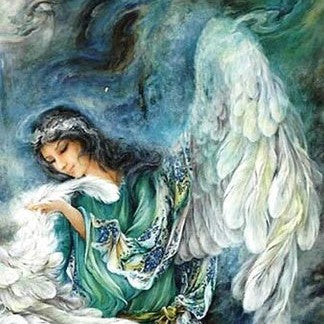 Persian Myth and Symbols in Jewelry
Persian Painting of fairy Abchehregan is borrowed from fairies (Paris) found in enchanting Persian legends: those nymph-like creatures who enter the myths with a jug in their hands, gazing at the...
Read more